Outsource Embroidery Digitizing Price
You can choose us to outsource embroidery digitizing work because we have state-of-the-art equipment as well as the creativity to handle your needs. We understand that choosing the right outsource embroidery digitizing services, but embroidersly is the go-to option when it comes down to saving dollars and making money at the same time. Our services are curated to bring convenience to our clients.
Every business has to work on its marketing and advertising, and creating brand merchandise is one of the best solutions. In addition, some brands sell clothes, such as jackets, t-shirts, and hoodies. So, irrespective of what you need the garments for, we are here to fulfill your embroidery digitizing needs without compromising on quality.
Cost for Embroidery Digitizing Outsourcing
At Embroidersly, you can believe in us to outsource embroidery digitizing because we have the creativity and knack for quality. For this purpose, we are offering image modification, embroidery path allocation, and stitch assignment without adding extra charges. When you first come to us, we will inspect the images closely to make sure the images are modified properly.
As far as the pricing is concerned, we charge $0.99 per thousand stitches while the jacket back costs $25. In addition, our vector art charges range from $15 to $35. We have kept the most reasonable prices but they vary with the thread and stitch count and design complexity.
In addition, we expand the images in case there is text in the design, so the text is more visible. After the graphics modification, we will leverage advanced software to allocate the embroidery path. We have a keen eye for detail as well as the expertise to ensure the embroidery path is accurate and that there are no voids in the design layout.
Our cost also includes assigning the stitches. We will closely go through the images to assign a specific stitch type to the images. That's because every part of the design has to be perfected with a specific stitch. In addition, we will consider the fabric and thread to determine the correct stitch, promising the best embroidery results.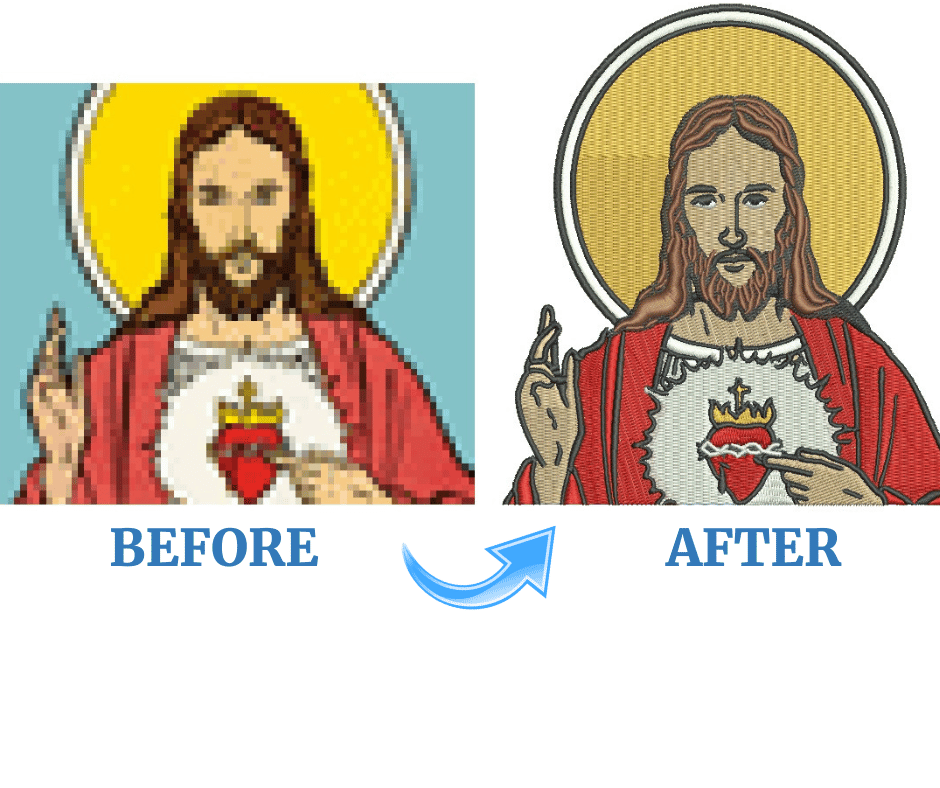 Outsource Embroidery Digitizing Services for Superior Quality and Efficiency ​
Embroidery digitizing is an important part of garments, and we are offering the services to all our clients who need to redistribute it because of less experience or lack of resources. We don't mind saying that outsourcing the embroidery digitizing services will be an absolute game-changer. We have the experts, so you don't have to worry about efficiency, quality, or affordability.
We will ensure that the embroidery files are digitized with attention to detail and precision. That's because we have experience in optimizing the stitching patterns, adjusting the densities, and streamlining the modifications to improve the results. For this reason, our results are superior and resonate with your original artwork.
On top of everything, our experience will allow you to free up the resources and time, so you can focus on your business processes. In addition, we have access to the latest technology and software, promising efficient and quick project completion.
Why Outsource Embroidery Digitizing? ​
Many brands choose to deploy embroidery digitizing because of cost savings and scalability, but there are many other benefits. To begin with, you will get customization and flexibility options, which means we can handle the embroidery digitizing needs. It doesn't matter if your designs have small lettering, complex logos, or intricate details; we can tailor the processes for you. The second benefit is scalability because you will be able to connect with a huge team of digitizers who can handle any project volume without compromising on accuracy and quality. Ranging from single to bulk embroidery digitizing, we can handle your requirements easily. In addition, we have the quickest turnaround time, so you can get the garments within the promised timeline.
Who Can Benefit from Outsourcing Embroidery Digitizing?
At Embroidersly, we are operating with the intent to meet and exceed the expectations of all our clients. This is why we have procured the latest equipment and advanced software that helps us cater to garment owners, large embroidery digitizing companies, and business owners. So, it doesn't matter if you want to get the garments adorned for your brand or want to reduce the workload; we are here for you.
Advantages of Choosing Our Embroidery Digitizing Outsourcing Services
We believe in extending help to our clients because our outsourcing services are meant to take the burden off our clients' shoulders. Our industry-leading expertise and experience help us meet your digitizing and embroidering requirements with the utmost professionalism. In addition, our team is all about customization and flexibility because we can modify and customize the designs as per your preferences.
Moreover, when you choose us, we will promise a quick turnaround time because we understand that time is money for all our clients.
Why Choose Us for Embroidery Digitizing Outsourcing?
Skilled and Experienced Digitizing Team
We have a highly skilled and experienced digitizing team, which is the expert in their field. We have a deep understanding of the threads, design, and stitch patterns, as well as other technical aspects. This expertise allows us to transform your vision into reality while ensuring flawless detail replication.
Dedicated Customer Support
We believes in fostering long-term relationships with clients. That's why we have a dedicated customer support team that's always available to assist you. It doesn't matter if you have any questions or need additional guidance; our team will be there.
Competitive Pricing and Flexible Packages
We have set the most competitive pricing and flexible packages because we understand the importance of affordability for every client. We also have multiple pricing plans that can be tailored according to your requirements. In simpler words, you can tell us your budget, and we will create the perfect pricing plan for you.
Commitment to Quality and Attention to Detail
Quality is our utmost priority, which is why we deliver exceptional quality results. We promise impeccable attention to detail, promising accurate stitch placement and thread density. In addition, we will optimize the stitch patterns because we want to deliver results that exceed your expectations. This is because we have a commitment to quality and attention to detail you need to make it big in your industry.
Get Started with Outsourcing Your Embroidery Digitizing Today!
Outsourcing the embroidery digitizing services is an important decision that can help save time, money, and headache. So, by choosing Embroidersly, you will be choosing a reliable and professional partner that's committed to quality. In addition, we have a flexible pricing solution, so give us a call and let's discuss this in detail!
Frequently Asked Questions
Yes, your artwork and design will be safe. Embroidersly takes transparency and client privacy seriously, which is why we will not use your design other than for embroidery digitizing for you.
We charge $0.99 per thousand stitches, but the jacket's back costs $25. In addition, if you want to get the vector art done, the charges range from $15 to $35.
You can outsource it because of the expertise we have. We know different types of fabrics, have advanced equipment, and leverage different stitch types. This means that every piece will be done to perfection, and you will be able to save time and costs.